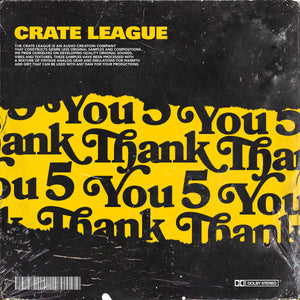 Regular price
The Crate League - Thank You Vol. 5
---
The Crate League - Thank You 5 ! is the fifth compositions/sample pack from producer Audio Anthem  Within this pack, you will get (10) original Lush samples filled vocals, Horns and keys! Nonthing but southern churchy soul! 

Anthem has provided work for Cyhi The Prynce, B.O.B, Yelawolf, Bobby Sessions, Rico Nasty and Killer Mike. He has also done ad/sync work for Gary Vaynerchuk, Nike, Under Armor, ESPN and Nylon magazine. 
Library of 10 original samples with BPM in composition and optional stem format.