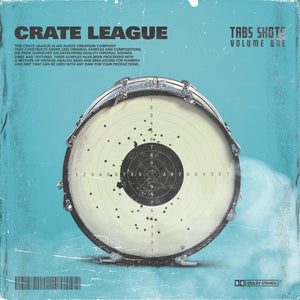 Regular price
The Crate League - Tabs shots vol. 1
---
 By popular demand, we offer the Tabs one-shot pack!
The Crate League - Tab shots volume 1! is a One-shot sample pack from the best selling tabs collection Within this pack, you will get (70) NEW original dusty one-shot drums and sounds from the Grimey Tabs Series.
Anthem and his team has provided work for Cyhi The Prynce, B.O.B, Yelawolf, Bobby Sessions, Rico Nasty, Cousin Stizz, and Killer Mike. He has also done ad/sync work for Gary Vaynerchuk, Vh1, Nike, Under Armor, ESPN and Nylon magazine.
Sample Pack Includes:
10 kicks
10 rim shots
10 hi-hat loops
10 snares
10 cymbal loops
10 rolls and fills
10 Instrumental sounds (Bass, guitar, Rhodes, Wurly, Vibes, B3 Organ)
Drums and sounds are labeled compatible with any DAW (44.1K)